Three things that may exist: dust storms, aliens, and Mexican/Chinese restaurants.
07.08.2011 - 07.08.2011
102 °F
Leprechauns. Eskimos. Chupacabra. The Loch Ness monster. Wheel of Fortune Shauna. These are things that are rumored to exist.
So are dust storms, apparently. We only saw little devils, which, while cool, could not confirm or deny the existence of the real deal. Have you ever been in a dust storm? How do we know that they really exist? Are dust storms like Santa Claus, we're just supposed to take your word for it, mom and dad?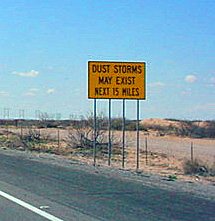 Or what about your word, Yelp? We're just gonna follow you to Margarita's, a "Mexican-Chinese" restaurant? Are we gonna actually believe that your tacos al pastor are the real deal? What are we supposed to think when the chips and salsa are next to soy sauce and chopsticks? Any rational person would've walked out there and gone straight to a Taco Bell; at least you know the poison you'll be eating there.

And you, Roswell? Aliens? Really? Aliens serving me sno-cones or cold Coca-Colas? Let me ask you this – aliens come all these bazillions of miles to the Earth, to what, hang out in Roswell, eating chips and salsa with chopsticks!? Not likely.
But, while not likely, the Mexican food was fantastic. And the alien museum not only entertaining but slightly scientific and somewhat convincing. Dust storms? I suppose they put the signs up for something. Doubtful that New Mexico would spend that kind of money to play practical jokes on tourists.
So now you, Shauna? What do we take away from this? That you, too, exist? Because we're starting to really wonder about you, not showing up and all in our movie….
Sigh.
We're sorry Shauna, we know that you're out there. Just like dust storms and Eskimos, we know you exist. And we'll be seeing you soon.
Still, Wichita public schools, shame on you. Washington, DC, does not exist in Washington state.
New Vanna got a rest after this long day. She's filthy and we didn't want to take her into Mexico. We reached 3300 miles yesterday, visited the world's largest pistachio (heavy!) and saw some pretty sunset action. Southwest US is beautiful. And weird.

Posted by luckiestshauna 15:40 Archived in USA Tagged arizona aliens texas documentary new_mexico roswell cross-country usa! the_luckiest_shauna pistachio ufo_museum chinese_mexican_food